Hand Cleaner for Mechanics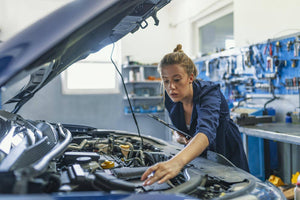 Zolex Hand Cleaner is a Must-Have for Mechanics
Dry, cracked and irritated skin is a common issue for those who work in the motor vehicle repair industry. Mechanics, and other professionals who handle car parts each day, are prone to serious skin issues including various types of dermatitis, hand and nail infections, acneiform rashes and even skin cancer. These conditions are caused by constant contact with oil, solvents, and grease. While these elements may be useful in the overall function of our automobiles, exposure to these toxic and allergenic chemicals can do severe damage to the hands and nails.
Understanding Skin Issues with Auto Repair Specialists
The outer layer of the skin acts as a strong barrier which prevents infection and allergens from penetrating the inner layers of skin. This layer has a pH level that is acidic, which can help break down the degreasing agents found in many soaps. However, excessive use of alkaline soaps and some types of detergent can destroy the acidity of the skin, causing the amount of protection it provides to decrease over time. If not protected, this can lead to severe dry skin which will eventually become rough, thickened and flaky over time. Ultimately the skin on the hands will begin to crack and lose its elasticity.
How Zolex - Hand Cleaner Can Protect A Mechanic's Skin
Zolex Hand Cleaner has a safe, water-based formula that does not contain any harsh chemicals or toxins. It is delicate on the hands, but tough on grease and grime. It can be used on a daily basis to remove stubborn dirt from the skin and fingernails without a lot of harmful scrubbing involved. This heavy-duty hand cleaner is non-toxic, eco-friendly and pumice-free. It will not clog your drains as you are washing your hands, and in fact, it actually helps to keep your pipes clean as it flows down the drain. This versatile cleaner is not just ideal for hands, but also great to use around the house, or garage, to remove stubborn dirt, grease and grime from all types of surfaces.
Zolex Hand Cleaner can help prevent harmful skin conditions from occurring because it will remove oil and grease from your hands at the end of each work day. Continuously using hand soap that doesn't completely remove the toxins, or using harsh hand cleaner that dries out the skin, can do more harm than good over time. With Zolex, you get to enjoy clean hands with no harsh chemicals or noxious odors. This product leaves behind a fresh, clean scent after each use, making it ideal not only for the mechanic of the family, but everyone else in the household as well.
Enjoy Zolex - Hand Cleaner and Its Many Uses
Zolex Hand Cleaner may be the perfect product to have on hand at the garage, but it is also great to have around the house for cleaning up after every day projects. Use it to shine up your kitchen sink or range top. It can easily remove grime from your tub or bathroom sink and be used on a variety of surfaces to safely remove stubborn dirt and stains. This concentrated product goes a long way, and is known to do 5X more than other hand cleaners. It is capable of retaining its consistency and potency over time so you can buy extra containers to use later without losing cleaning efficiency. This product is suitable for both industrial and home use, and can safely be used by every member of the family.
If you would like to see for yourself how well Zolex Hand Cleaner works on the toughest grease and grime, you can request a free sample to try at home. You have nothing to lose, but cleaner, healthier skin to gain when you give this non-toxic, non-hazardous product a try.
If you are a professional that works with their hands, request a sample using this link: Water-Activated Hand Cleaner Sample Request