5 Key Questions Answered about Industrial Hand Soap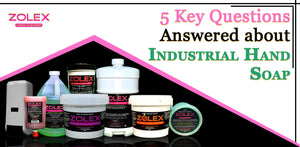 For the complete safety of your hands from germs, bacteria, and dirt, you should use quality hand cleaners or soaps. If you are working in the industry, factory, lab, and workshop, you need a powerful hand cleaner or washer to do deep cleaning of hands. The people working at industries and factories get their hands' mess-up with lots of dirt, dust, oil, grease, and sticky contents while working with machines. To remove such elements from hands, your regular soap and hand washes will not work enough. You need heavy-duty hand cleaners that are perfect for industrial hand cleaning purposes. At the stores, you will find some powerful industrial hand cleaners of top brands and manufacturers. You will find the best options in industrial cleaners, scrubs, soaps, and other cleaning agents online. Before you choose any industrial hand cleaner, you need to identify some relevant questions about them as follows:
Types of Flaws Get Removed by Industrial Cleaners?
Before buying any industrial hand scrub, liquid soap, or other cleaners, you need to confirm that what types of flaws can get removed by the industrial cleaners? In industries, a worker does work on varied machines which include lots of dirt, oils, dust, grease, rust, paint, ink, carbon, etc., which may pollute his hands. After use of the machines or equipment, your hands may get mess-up with all such elements and make hands full of dark, cuts, and germs. To remove such elements from your hands, you need heavy-duty industrial cleaners. Hence, you should choose the industrial hand cleaner, which has made powerful enough to remove all those flaws from your hands without harming hands.
The manufacturers do take this point in mind and develop heavy-duty industrial hand cleaners which are effective to remove oil, dirt, ink, paint, glues, resins, rust, soil, and other harmful elements from hands. So, you need to ensure that your industrial has such impact to remove all flaws from hands with no issues.
Variety in Industrial Hands Cleaners
You should also make the selection of the right type of hand cleaner for industrial use. Usually, there is a wide variety of industrial cleaners available at the stores such as:
Industrial Hand Scrub: These are plastic beads or crushed walnut shells made of plastic material most. Industrial hand scrubs are useful to soften rough hands and remove flaws like oil, gels, grease, glues, etc. So, you can use industrial scrubs to clean your hands.
Industrial Liquid Soap: You can also use quality liquid soaps as industrial cleaners. Industrial liquid soaps include quality ingredients like vinegar, essential oils, lye water, coconut oil, olive oil, etc. All elements should have mixed in a calculated quantity to develop a quality industrial liquid soap that will not give a bad effect on human hands.
Industrial Degreaser: Industrial degreasers are soaps designed to clean industrial dirt from hands. They come free from harmful solvents and non-abrading elements like citrus fruits and auto lubricating oils too.
Industrial Cleansing Gels: You can also try hand cleaning from industrial cleansing gels. Most industrial cleansing gels are solvent-free, non-flammable, and non-abrasive too. Such gels are effective to remove paint, resins, adhesives, dirt, and other contaminants.
How to Dispense Hand Cleaner in Industry
The safe and easy dispense of hand cleaner among industrial workers is also necessary. Hence, you should choose an industrial hand cleaner in a form that can distribute or use by the workers without spreading contamination. For betterment, you can use industrial hand liquid soaps and gels, which is easy to fill in bottles and access through separate pumps by workers. Hence, it will not lead to the chances of contamination among colleagues with dirty hands. Try to set up adequate hand cleaner dispense mechanisms in the industry for safe access of hand cleaner for workers and keep them safe from spreading contamination from each other.
Also Read: https://zolex-handcleaner.com/blogs/news/faq-s-about-industrial-heavy-duty-hand-cleaner
Ensure Hand Cleaners are Safe
It is one of the most significant aspects that you should consider while choosing any heavy-duty hand cleaner for industrial use. Whatever type of hand cleaner you choose like liquid soap, gels, greasers, scrubs, degreaser, etc., you need to ensure that is safe for your hands and skin. Besides, the hand cleaners should not get reacted to environmental conditions like hot and cold weather, moisture, dryness, etc. Also, the cleaners should be non-flammable and non-abrasive. Thus, you need to take care of all safety points before choosing any hand cleaner for industrial use.
Convenience in Using Industrial Hand Cleaners
You may also consider the application or usability of industrial hand cleaners that should be accurate and hassle-free. If you use industrial cleaner in forms like liquid, solid, gel, powder, etc., you need to know how to do safe use of cleaners without spreading contamination. While using hand cleaners, you need to ensure that they are easy to use and get cleaned completely after cleansing with water. There should not be any dirt residue remain behind after cleaning hands.
Hence, you need to check all the above five significant points or keep them in mind before choosing industrial hand cleaners of any type or form. You can visit Zolex Hand Cleaner to buy the best Industrial Hand Cleaner. You can contact us at (800) 591-2713 or mail us at jeff@zolex-handcleaner.com